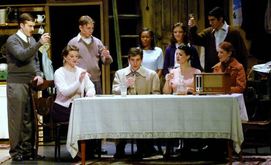 By Frances Goodrich and Albert Hackett, newly adapted by Wendy Kesselman.
In this gripping new adaptation by Wendy Kesselman, from the original stage play by Goodrich and Hackett, newly discovered writings from the diary of Anne Frank, as well as survivor accounts, are interwoven to create a contemporary impassioned story of the lives of people persecuted under Nazi rule. This is an adaptation for a new generation able to confront the true horrors of the Holocaust. "Undeniably moving. It shatters the heart. The evening never lets us forget the inhuman darkness waiting to claim its incandescently human heroine." —NY Times. "An extraordinary theatrical adventure! Go and remember." —NY Post. "…new DIARY is chillingly honest about the Holocaust. Wendy Kesselman's work has restored the terror." —NY Daily News. "Wendy Kesselman's finely textured new DIARY tells a deeper story. A sensitive, stirring and thoroughly engaging new adaptation." —NY Newsday. "A powerful new version that moves the audience to gasp, then tears." —A.P. "The new version presents Anne Frank's story with an unflinching view of the Holocaust and its aftermath. It must be seen." —Gannett. "One of the year's ten best." —Time.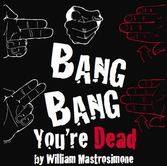 By William Mastrosimone.
​ "Bang Bang You're Dead" is a resource for dealing with a broken world that's violent, unhealthy, unfair, and beyond the power of anyone to fix except today's generation. The play is a free gift for students to perform in schools, garages, street corners, parks, houses of worship — anyplace there can be communication and discovery about how we've made the world's violence our own. And how we can change it. It's about a theater of life.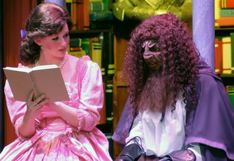 Disney's Beauty and the Beast
Music by Alan Menken, Lyrics by Howard Ashman and Tim Rice. Book by Linda Woolverton.Step into the enchanted world of Broadway's modern classic, Disney's Beauty and the Beast.
Based on the Academy Award winning animated feature, the stage version of Disney's Beauty and the Beast includes all of the wonderful songs from the film, written by Alan Menken and the late Howard Ashman, (the team responsible for Little Shop of Horrors), plus new songs written especially for the Broadway version by Mr. Menken and Tim Rice (Aladdin, Aida). The story is set in a lovely French provincial town where the beautiful Belle lives with her father – a dotty inventor. When her father doesn't return from a trip to the local fair, Belle rushes off to find him. To her dismay, she discovers he is being held captive in an old castle by a horrible beast. She trades her freedom for his and the "tale as old as time" begins. How Belle tames the unfortunate Beast and his ultimate transformation into a handsome prince is both a beautiful and important story which provides an important lesson about compassion for its audience.