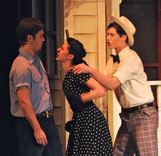 ​Written by William Inge.
​Madge Owens is ready to settle down with her steady, sensible fiance when the wild stranger Hal Carter breezes into town, igniting feelings in Madge she never knew she had. The annual Labor Day Picnic becomes a backdrop for a tale of longing and regret in this poignant drama, the winner of the 1953 Pulitzer Prize and the Critics Circle Award.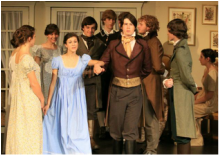 Book by Scott Ferguson and Kyle Hall and George Keating; Music by Lynn Ahrens and Bob Dorough and Dave Frishberg and Kathy Mandry and George Newall and Tom Yohe; Lyrics by Lynn Ahrens and Bob Dorough and Dave Frishberg and Kathy Mandry and George Newall and Tom Yohe; Based on the ABC-TV educational animated series which aired from the 1970s -1980s.  
​A pop culture phenomenon comes to the musical stage! The Emmy Award-winning 1970s Saturday morning cartoon series that taught history, grammar, math, science and politics through clever, tuneful songs is not only making a small-screen comeback, instructing a whole new generation to "Unpack Your Adjectives" and "Do The Circulations," it's lighting up stages everywhere, from school multi-purpose rooms to university and regional theatres all around the country. Tom, a nerve-wracked school teacher nervous about his first day of teaching, tries to relax by watching TV when various characters representing facets of his personality emerge from the set and show him how to win his students over with imagination and music, through such beloved "Schoolhouse Rock" songs as "Just A Bill," "Lolly, Lolly, Lolly" and "Conjunction Junction.".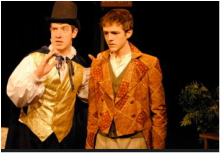 Fools – An off-beat comedy, Written by Neil Simon.
When Leon Tolchinsky arrives in Kulyenchikov, he finds the town has been cursed with Chronic Stupidity for 200 years, and his job is to break the curse. But no one tells him that if he stays over 24 hours and fails to break the curse, he too becomes Stupid. To complicate matters, he has fallen in love with a girl so Stupid that she has only recently learned how to sit down.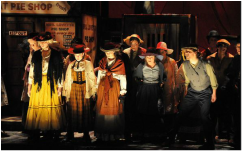 Music and Lyrics by Stephen Sondheim; Book by Hugh Wheeler. The musical tale of the "demon barber of Fleet Street" has won a whopping 18 Tony Awards for the original production and its ensuing revivals, ensuring its place as one of Broadway's greatest musicals. Stephen Sondheim weaves some of Broadway's most memorable songs into this powerful tale of revenge and redemption..