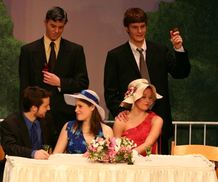 By William Shakespeare.
Shakespeare's classic tale about the complications of love, marriage, and gender gets a new twist when set among New York's elite. Baptista Minola, who of the richest men in America, never met an adversary he couldn't handle—except for his won daughter Kate, labeled by the tabloids as "Kate the Curst." When he refuses to allow his much sought after daughter Bianca marry before the Kate, the search is on to find someone insane enough marry Kate. Hope comes in the form of Petruchio, a man just crazy and arrogant enough to take on the task of taming Manhattan's wildest woman. Mistaken identities, insane schemes, and passionate affairs prove that love is tricky, but ultimately worth it!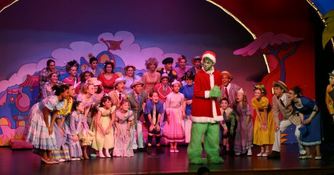 Book by Lynn Ahrens and Stephen Flaherty, Lyrics by Lynn Ahrens, Music by Stephen Flaherty, Co-Conceived by Lynn Ahrens, Stephen Flaherty & Eric Idle
"I can see that you've got quite a mind for your age!
Why, one Think and you dragged me right onto the stage!
Now, I'm here, there is no telling what may ensue
With a Cat such as me, and a Thinker like you!"
So says the mischievous Cat in the Hat at the onset of this fantastical, magical, musical extravaganza! Lynn Ahrens and Stephen Flaherty (Lucky Stiff, My Favorite Year, Once On This Island, and Ragtime) have lovingly brought to life all of our favorite Dr. Seuss characters, including Horton the Elephant, Gertrude McFuzz, Lazy Mayzie and all of the Whos of Whoville! These classic, colorful tales are seamlessly brought together by Jojo, a young boy and "thinker of strange and wonderful thinks"! As each story unfolds you will marvel at how relevant and profound Seuss's subtle themes are; making this musical one that appeals to all ages.