By Michael Frayn. 
​Called the funniest farce ever written, Noises Off follows the comic trials and tribulations of the theatre's most dysfunctional cast and crew as they fumble their way through hysterically disastrous dress rehearsals and performances.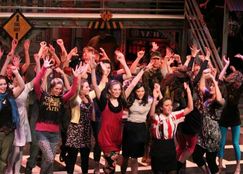 Conceived and originally directed by John-Michael Tebelak, with music and new lyrics by Stephen Schwartz
Based on the Gospel According to St. Matthew, and featuring a sparkling score by Stephen Schwartz, "Godspell" boasts a string of well-loved songs, led by the international hit, "Day By Day." As the cast performs "Prepare Ye The Way Of The Lord," "Learn Your Lessons Well," "All For The Best," "All Good Gifts," "Turn Back, O Man" and "By My Side," the parables of Jesus Christ come humanly and hearteningly to life..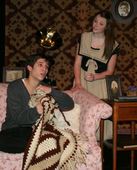 By Tennessee Williams.
Amanda Wingfield is a faded, tragic remnant of Southern gentility who lives in poverty in a dingy St. Louis apartment with her son, Tom, and her daughter, Laura. Amanda strives to give meaning and direction to her life and the lives of her children, though her methods are ineffective and irritating. Tom is driven nearly to distraction by his mother's nagging and seeks escape in alcohol and the world of the movies. Laura also lives in her illusions. She is crippled, and this defect, intensified by her mother's anxiety to see her married, has driven her more and more into herself. The crux of the action comes when Tom invites a young man of his acquaintance to take dinner with the family. The family pins their hopes on the gentleman caller and his arrival shines a light on their simmering dysfunction.