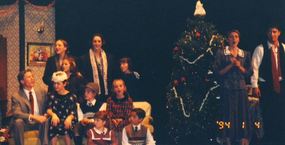 Dramatized by James W. Rodgers. Adapted from the film by Frank Capra.
​In our American culture It's a Wonderful Life has become almost as familiar as Dickens' A Christmas Carol. The story is a natural for a stage adaptation: the saga of George Bailey, the Everyman from the small town of Bedford Falls, whose dreams of escape and adventure have been quashed by family obligation and civic duty, whose guardian angel has to descent on Christmas Eve to save him from despair and to remind him—by showing him what the world would have been like had he never been born—that his has been, after all, a wonderful life. This faithful adaptation has all your favorite characters: George and Mary Hatch, Clarence, Uncle Billy, Violet, and, of course, the Scrooge-like villain, Mr. Potter. This fine dramatization not only celebrates the faith of the season, it also celebrates the American philosophy of life: hard work, fair play and the love and support of one's family and community will be rewarded.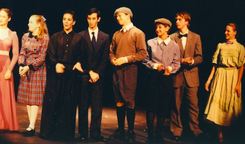 By Thornton Wilder
Wilder violated nearly every convention of modern theater in having minimal set, no props and characters that spoke directly to the audience. His quintessential piece of Americana follows the lives and loves of the Gibbs and Webb families as they struggle with living and dying in a young country. As the Stage Manger intimates, "In our town, we like to know that facts about everybody."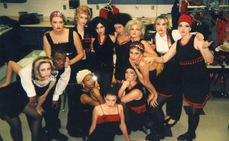 Book by Neil Simon, Music by Cy Coleman , Lyrics by Dorothy Fields, Based on an original screenplay by Federico Fellini, Tullio Pinelli and Ennio Plaiano, Produced for the Broadway Stage by Fryer, Carr and Harris, Conceived, Staged and Choreographed by Bob Fosse
Have you ever known a girl who wanted something so badly, that she tried too hard to get it? Meet Charity, the girl who wants to be loved so much, that she has lost sight of who she is. Charity sings, dances, laughs and cries her way through romances with the "animal magnetism" hero, the "ultra-chic continental" hero, and the "impossible-to believe-but-he's-better than nothing" type hero. Her world is the all too real world of Times Square, and the people who pass through her world are as deceptively charming a group as ever swept across any stage. From her cynical, hard-core trio of girlfriends at the dance hall, to the phony evangelist, the Coney Island "fun people", the Central Park "strollers" and the YMHA "self-improvers," every character is interesting. This is a bright and sophisticated show in every sense. Cy Coleman has captured the rhythms and sounds, and Dorothy Fields the vernacular and fun of New York. It's a comedy in every sense of the word. Neil Simon has a particular talent for looking at the truly amusing side of life. It's a dancing show too, with great opportunity for use of dramatic movement. Wonderful musical numbers include Big Spender, If My Friends Could See Me Now, Too Many Tomorrows, There's Gotta Be Something Better Than This, I'm a Brass Band and Baby, Dream Your Dream.