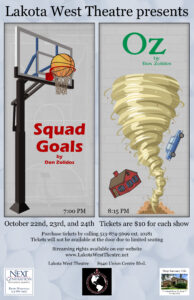 By Don Zolidos
Lakota West Theatre presents two shows on Oct. 22, 23, and 24 (Squad Goals at 7PM and Oz at 8:15).
Squad Goals is a play about two crazy coaches and their ragtag basketball team who are looking for one more player for their team. Inspirational sport movies have affected their thinking, so they aren't looking for the most talent, but the most heart. The play scores on the absurd cliches in every sports movie ever made and is a hilarious slam-dunk.
Oz is a play about a girl named Beth who is mourning the death of her sister and is taken on a journey through a world that suspiciously resembles the movie The Wizard of Oz. But when she finds the yellow brick road has been sold to investors, among other things, she realizes she isn't in Kansas anymore. The play is both hilarious and heart wrenching as Beth experiences grief and perseverance on the "road" to acceptance.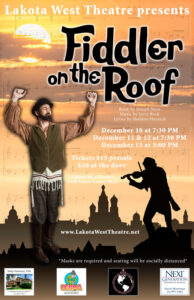 By Joseph Stein
Lakota West Theatre presents Fiddler on the Roof on Dec. 10, 11, and 12 at 7:30. Also on Dec. 13 at 3PM.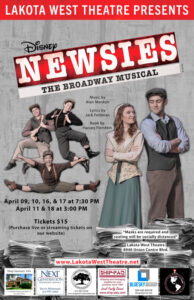 By Harvey Fierstein
Lakota West Theatre presents six shows on April 9, 10, 11, 16, 17, & 18.
Set in turn-of-the century New York City, Newsies is the rousing tale of Jack Kelly, a charismatic newsboy and leader of a band of teenaged "newsies." When titans of publishing raise distribution prices at the newsboys' expense, Jack rallies newsies from across the city to strike against the unfair conditions and fight for what's right. Featuring the now classic songs "Carrying the Banner," "Seize the Day," and "Santa Fe," Newsies is packed with non-stop thrills
​and a timeless message, perfect for the whole family and every audience.