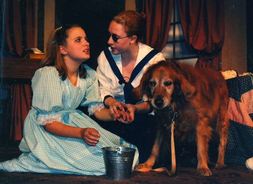 By William Gibson
​This stirring dramatization of the story of Helen Keller is one of the most successful and warmly admired plays of the modern stage. Blind and mute, and nobody knows what Helen's fate might have been had she not come under the tutelage of Annie Sullivan, an Irish girl who had been born blind. The Miracle Worker is principally concerned with the emotional relationship between the lonely teacher and her blind charge. Little Helen, trapped in her secret world, is bitter, violent, spoiled and almost animal like. Only Annie realizes that there is a mind waiting to be rescued from that dark, tortured silence. Annie's success with Helen comes only after some of the most turbulent, violent, and emotion packed scenes ever presented on the stage.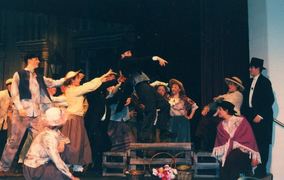 Book and Lyrics by Alan Jay Lerner, Music by Frederick Loewe, Adapted from George Bernard Shaw's Play and Gabriel Pascal's motion picture Pygmalion
​This show is the standard by which all others are measured. Based on Shaw's play and Pascal's movie Pygmalion, with book, music and lyrics by Lerner and Loewe, My Fair Lady is triumphant. "With Wouldn't It Be Loverly?" "With a Little Bit of Luck, "The Rain in Spain," "I Could Have Danced All Night," "On the Street Where You Live," "Get Me to the Church on Time," and "I've Grown Accustomed to Her Face" it's no wonder everyone-not just Henry Higgins-falls in love with Eliza Doolittle.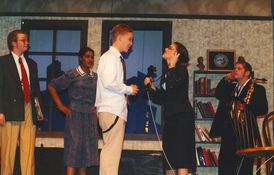 By Ben Hecht and Charles MacArthur
​An irresistible comedy with thrills and derring do set in the news room. Hildy wants to break away from journalism and go on a belated honeymoon. There is a jailbreak and into Hildy's hands falls the escapee as hostage. He conceals his prize in a rolltop desk and phones his scoop to his managing editor. Their job is to prevent other reporters and the sheriff from opening the desk and finding their story. Some hoods are enlisted to remove the desk, but they get mixed up with a Boy Scout troop and the mayor and a cleaning woman, among others. It's a whirlwind wrap up with Hildy finally making his breakaway, but the cynical managing editor has him arrested before he leaves town for having stolen a watch he planted on Hildy.