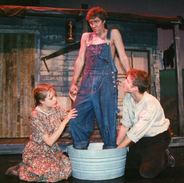 By Jim Leonard, Jr.
This marvelously theatrical play is the story of a disturbed young man and his friendship with a disenchanted preacher in southern Indiana in the early 1930s. When the boy was young he almost drowned. This trauma and the loss of his mother in the same accident has left him deathly afraid of water. The preacher, set on breaking away from a long line of Kentucky family preachers, is determined not to do what he does best. He works as a mechanic for the boy's father. The town doesn't have a preacher and the women try to persuade him to preach while he tries to persuade the child to wash. When the preacher finally gets the boy in the river and is washing him, the townspeople mistake the scene for a baptism. They descend on the event and, in the confusion, the boy drowns.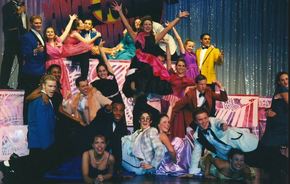 Book, Music and Lyrics by Jim Jacobs and Warren Casey
This is the 1950's rock 'n' roll musical. Rydell High's spirited class of '59; gum chewing, hubcap stealing, hot rod loving boys with D.A.'s and their wise cracking girls in bobby sox and pedal pushers—capture the look and sound of the 1950s in a rollicking musical. While hip Danny Zuko and wholesome Sandy Dumbrowski resolve the problems of their mutual attraction, the gang sings and dances its way through such nostalgic scenes as the pajama party, the prom, the burger palace, and the drive in movie. Songs recall the Buddy Holly hiccups, the Little Richard yodels and the Elvis Presley wiggles that made the music of the 50s a gas. Grease's eight-year run made Broadway history and its recent long running revival put it among today's most popular musicals.