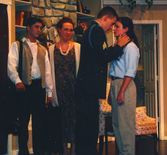 ​By Maxwell Anderson, from William March's novel
The scene is a small Southern town where Colonel and Christine Penmark live with their daughter, Rhoda. Little Rhoda Penmark is the evil queen of the story. On the surface she is sweet, charming, full of old-fashioned graces, loved by her parents, admired by all her elders. But Rhoda's mother has an uneasy feeling about her. When one of Rhoda's schoolmates is mysteriously drowned at a picnic, Mrs. Penmark is alarmed. For the boy who was drowned was the one who had won the penmanship medal that Rhoda felt she deserved.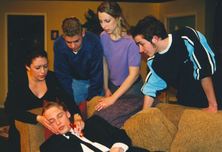 By Caroline Francke
​Mr. Banks learns that one of the young men he has seen occasionally about the house is about to become his son-in-law. Daughter Kay announces the engagement out of nowhere. Mrs. Banks and her sons are happy, but Mr. Banks is in a dither. The groom-to-be, Buckley Dunstan, appears on the scene and Mr. Banks realizes that the engagement is serious. Buckley and Kay don't want a "big" wedding—just a simple affair with a few friends! We soon learn, however, that the "few" friends idea is out. Then trouble really begins. The guest list grows larger each day, a caterer is called in, florists, furniture movers and dressmakers take over, and the Banks household is soon caught in turmoil—not to mention growing debt. When Kay, in a fit of temper, calls off the wedding, everyone's patience snaps. But all is set right, and the wedding (despite more last-minute crises) comes off beautifully. In the end, the father of the bride is a happy, proud man, glad that the wedding is over, but knowing too that it was worth all the money and aggravation to start his daughter off so handsomely on the road to married life.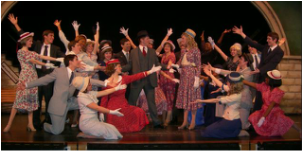 Joseph and the Amazing Technicolor Dreamcoat
Music by Andrew Lloyd Webber, Lyrics by Tim Rice
The Biblical saga of Joseph and his coat of many colors comes to vibrant life in this delightful musical parable. Joseph is a boy blessed with prophetic dreams, and his father's favorite son. When he is sold into slavery by his jealous brothers and taken to Egypt, Joseph endures a series of adventures in which his spirit and humanity are continually challenged. He is purchased by the Potifars where thwarting advances from the Mrs. lands him in jail. When news of Joseph's gift to interpret dreams reaches the Pharaoh (wryly and riotously depicted as Elvis), Joseph is well on his way to becoming second in command. Eventually his brothers, having suffered greatly, unknowingly find themselves groveling at the feet of the brother they betrayed but no longer recognize. After testing their integrity, Joseph reveals himself leading to a heartfelt reconciliation of the sons of Israel. Set to an engaging cornucopia of musical styles, from country-western and calypso to bubble-gum pop and rock 'n' roll, this Old Testament tale emerges both timely and timeless.