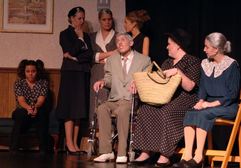 By Jessie Jones and David Botrell.
​In the Baptist backwoods of the Bible Belt, the beleaguered Turpin family proves that living and dying in the South are seldom tidy and always hilarious. Despite their earnest efforts to pull themselves together for their father's funeral, the Turpin's other problems keep overshadowing the solemn occasion: Firstborn Ray-Bud drinks himself silly as the funeral bills mount; Junior, the younger son, is juggling financial ruin, a pack of no-neck monster kids, and a wife who suspects him of infidelity in the family car; their spinster sister, Delightful, copes with death as she does life, by devouring junk food; and all the neighbors add more than two cents. As the situation becomes fraught with mishap, Ray-Bud says to his long-suffering wife, "When I die, don't tell nobody. Just bury me in the backyard and tell everybody I left you." Amidst the chaos, the Turpins turn for comfort to their friends and neighbors, an eccentric community of misfits who just manage to pull together and help each other through their hours of need, and finally, the funeral.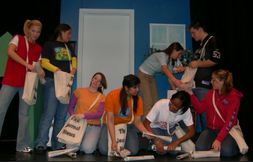 Based on the books Henry and Beezus, Henry and the Clubhouse, and Henry and the Paper Route by Beverly Cleary. Dramatized by Cynthia J. McGean.
​Welcome to Klickitat Street, home of Henry Higgins, his faithful dog Ribsy, Ramona the Pest, and her long-suffering sister Beezus. Newbery Award-winning author Beverly Cleary's irrepressible hero saves the day in this adaptation of one of the best-loved children's book series of all time. Ten-year-old Henry wants to do something important; he wants to deliver newspapers, just like that showoff Scooter McCarthy and the other boys. But first Henry has to prove to his parents he can handle the responsibility. That won't be easy with Ramona Quimby around! Then when the boys form a clubhouse excluding girls, Henry's friendship with Beezus is tested and the girls wreak their hilarious revenge. All of Henry's most memorable adventures are here including riding to the dump in a bathtub and getting his first bike. Along the way, with the "help" of Ramona, he learns some valuable lessons about friendship and maturity.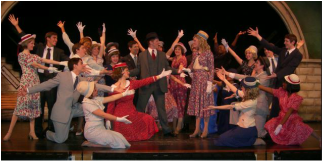 Music by Harry Warren, Lyrics by Al Dubin, Book by Michael Stewart & Mark Bramble, Based on the Novel by Bradford Ropes, Original Direction and Dances by Gower Champion, Originally Produced on Broadway by David Merrick.
​This is the story of hard work, being in the right place at the right time, talent and love. 42nd Street is a celebration of Broadway and the people involved in shows. It focuses on aspiring chorus girl Peggy Sawyer, and takes us along her journey. Musical hits include "You're Getting to Be a Habit with Me," "Dames," "I Know Now," "We're In the Money," "Lullaby of Broadway," "Shuffle Off to Buffalo" and "Forty-Second Street." Every audience enjoys watching the underdog succeed!